Storage Tank and Vessel
Storage Tank and Vessel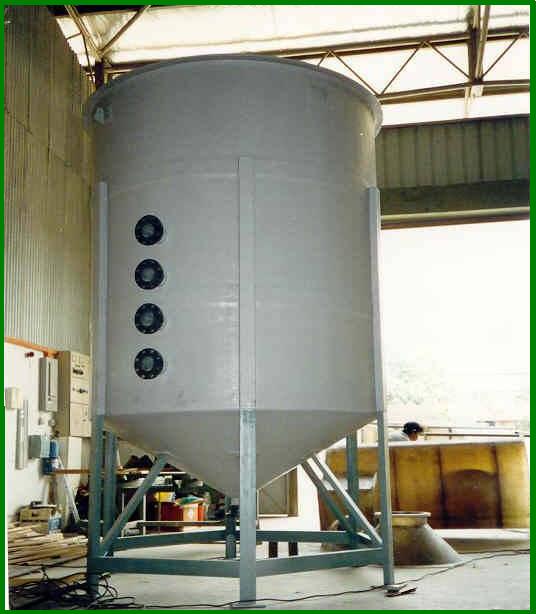 From storage container, insulated tank, high temperature reaction tank, raw material storage silo, horizontal vessel to ASTM-complied reactor, City Thermoplastic Engineering Sdn. Bhd. has eventually achieved customer's satisfactions from different industries.

To provide compatible materials for storage of the fast-growing formulation of various kinds of chemicals, solvents or hydrocarbon based agents, steel, plastics, composite and even combining material has been developed to fit for the purpose.

Under the aggressive working environment, for example, blending or storing concentrated chemicals in high temperature or even with the elevated heating process, plastic materials deliver better performance than steel constructed tank.

Recognizing the need for more extension design verification, City Thermoplastic Engineering Sdn. Bhd. provides analysis of user's requirement, detailed calculation and engineering consideration to the making of storage equipment.
Maximum Resisting Temperature (°C) of Standard Plastics against Common Chemicals
| | | | | | | | | | | | |
| --- | --- | --- | --- | --- | --- | --- | --- | --- | --- | --- | --- |
| Chemicals | PVC | HDPE | PP | GRP | PVDF | Chemicals | PVC | HDPE | PP | GRP | PVDF |
| Aluminum Sulfate | 60 | 60 | 104 | 116 | 149 | Hydrochloric Acid | 54 | 54 | 87 | 76 | 132 |
| Aluminum Chloride | 60 | 60 | 93 | 127 | 149 | Nitric Acid | 54 | - | - | - | 43 |
| Calcium Carbonate | 60 | 60 | 116 | 82 | 138 | Sodium Hydroxide | 60 | 60 | 98 | 98 | 98 |
| Chromic Acid | - | 26 | 60 | - | 116 | Sodium Hypochlorite | 60 | 54 | 38 | 32 | 138 |
| Ferric Chloride | 54 | 54 | 93 | 93 | 132 | Sulfuric Acid | 60 | 15 | 93 | 82 | 116 |
Malaysia Tanks,Chemical Tank and Vessel Malaysia,frp tank,frp scrubber,frp fan,storage tank malaysia,chemical tank malaysia,storage tank,chemical tank,plastic tank malaysia,pvc tank malaysia,pp tank,pvdf tank,hdpe tank,water tank,vietnam,Bồn FRP,Bồn composite,BỒN FRP Vietnam,

Sản xuất Bồn Bể FRP
---